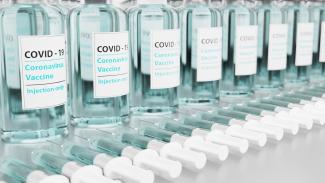 Stan's World - Waiting for a shot
February 15, 2021
While distant memory sometimes eludes me, I vividly recall back to my college days when getting a shot related to an alcoholic beverage. My, my, my, how times have changed.
If you're a senior citizen, or any other kind of citizen for that matter, talking about a shot today only has one meaning: the COVID vaccine . "Did you get the shot?" "Have you signed up for the shot?" "Are they giving the shot near you?" "Do you know anyone who got the shot?" "How can I get the shot?"
People who have received the vaccine are justifiably giddy from excitement, especially when they receive the second dose. In fact, just knowing you're going to get a shot causes people to click their heels in joy.
And the lengths we'll go to get the shot. The strategies we'll utilize. "What time do they post the time slots for tomorrow's appointments?" "Call the kids; tell them to log-in for us." "Turn on your iPad, the laptop, your iPhone; it's almost time!" "What if we just go there and wait?" "What if we go at the end of the day when they may have some doses left over?" "What if we just tell them we're (fill in the blank): diabetic; obese; a smoker; older than we look; older than we are; a nurse; a doctor; an astronaut scheduled to go into orbit the following morning?"
Getting on the schedule doesn't stop the agony because after scheduling comes worrying. "What if they run out of the vaccine?" "What if it snows?" "What if it rains?" "What if it's too hot?" "What if it snows and it's too hot?" "What if I sneeze when I get there?" "What if I cough?" "What if I – don't say it – have a fever?" "What should I do if I see the Publishers Clearing House sweepstakes truck turn into my driveway as I'm pulling out?" The possibilities of failure are endless.
Faced with failure, we turn to good old American ingenuity. We scheme. "I'll get there early, just to make sure." "I'll get there the day before, just to make sure." "I'll bring cash so I can bribe someone if they're running low on vials." "I'll bring my own syringe." "To be closer to the site, the night before I'm scheduled, I'll stay with my kid." "Or with a friend." "Or with a stranger." "I'll sleep in my car." "I'll sleep in a stranger's car."
About a month ago, during a random conversation with my accountant, he asked me if I had gotten the shot. He proceeded to tell me how his sister called her primary physician and was scheduled to get the shot in a few days. A few days!!
I use the same medical group, so I called. I was caller #47 on hold, which now gives me the authority to unequivocally state that it takes exactly two hours for 46 people to schedule appointments for a vaccine over the telephone. And then I was caller #1; it was my turn.
They had an appointment for me! And for my wife! (But first, for me.) They gave me a date for the first one and a date for the second one. And a time for each. And a location. I was set! Or was I?
Our appointments are scheduled for 9 am on Tuesday, February 16. As I write this, the weather forecast is for an ice storm on Tuesday, February 16. An ice storm! What if, gasp, I can't drive to get THE SHOT??
I'm a person who deals in probabilities every day, so it's important to frame the problem. If I don't get the shot, I could catch COVID, and die. If I drive on an icy road, I could hit an ice patch, and die. I don't like these options, so it's time to use ingenuity and make a few calls to assure success. It's time to scheme.
I can't arrive a day early. (I asked.) I can't arrive a day later. (I asked.) Summit Medical Group doesn't have a hotel on its main campus, so I can't sleep there the night before. (I asked.) I can't rent a Winnebago and sleep in their parking lot the night before. (I asked.) The Westfield Department of Public Works will not assign a driver and front-end loader to drive me to Berkeley Heights on Tuesday morning. (I asked.) The Westfield Rescue Squad will not allow me to pre-dial 911, and pre-schedule an emergency for 9 am on Tuesday, February 16. (I asked.)
I'm not writing this to get your sympathy. Rest assured, if I'm unable to get my shot as scheduled at 9 am on February 16, I will not be bitter, sullen, or jealous of others. Suffice it to say that on Wednesday, February 17, I will be lurking on the campus of Summit Medical Group in Berkeley Heights, waiting for my opportunity. Should someone named Harry Morgan, Sam Snead, or even Jennifer Lopez fail to answer when their name is called to get their shot, my hand will go up, and I'm walking to the front of the line. Frankly, a man has to do what a man has to do. I just need a damn shot!
Please remember that past performance may not be indicative of future results.  Different types of investments involve varying degrees of risk, and there can be no assurance that the future performance of any specific investment, investment strategy, or product (including the investments and/or investment strategies recommended or undertaken by S.F. Ehrlich Associates, Inc. ("SFEA"), or any non-investment related content, made reference to directly or indirectly in this newsletter will be profitable, equal any corresponding indicated historical performance level(s), be suitable for your portfolio or individual situation, or prove successful.  Due to various factors, including changing market conditions and/or applicable laws, the content may no longer be reflective of current opinions or positions. Moreover, you should not assume that any discussion or information contained in this newsletter serves as the receipt of, or as a substitute for, personalized investment advice from SFEA.  To the extent that a reader has any questions regarding the applicability of any specific issue discussed above to his/her individual situation, he/she is encouraged to consult with the professional advisor of his/her choosing.  SFEA is neither a law firm nor a certified public accounting firm and no portion of the newsletter content should be construed as legal or accounting advice.  A copy of SFEA's current written disclosure Brochure discussing our advisory services and fees is available upon request. If you are a SFEA client, please remember to contact SFEA, in writing, if there are any changes in your personal/financial situation or investment objectives for the purpose of reviewing, evaluating, or revising our previous recommendations and/or services.