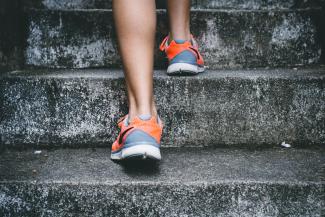 Stan's World - Pay me now or pay me later
November 15, 2021
Within a four-hour time span, two seniors gave me identical advice, word for word: "Don't grow old." In turn, I used the same words to reply to both: "I don't like the alternative."
Being told not to grow old is a line frequently used by seniors. In my experience, it's often said by someone with health issues, which can range from mere aches and pains to a more severe condition. It's a succinct way to explain how hard it can be to age.
But aging doesn't mean giving up; it's merely the start of the next chapter. In fact, we possess the ability to fight back against many of the effects of aging. For a change, let's talk about something that has nothing to do with money. Rather, let's spend a few minutes discussing a way that might allow you to enjoy the fruits of your labor as you (gently) age. We're not going to talk about getting your portfolio in shape; we're going to focus on getting you in shape. It's time to spend your money on a very worthwhile cause: YOU.
On a scale of 0-100, my family would grade me a minimum of 105 on a stubbornness scale. I may listen, and I may even make believe I'm pondering, but in the end, I'm going to do what I want to do. I tell you this because I want you to understand how long it has taken me to accept that I needed help if I wanted to age gracefully. If you're a senior, take notes. And if you're an adult child with senior parents, get out your pencil, as well.  While I'm certainly not qualified to be your guide, I can at least share my story.
The ingredients to my aging gracefully fitness stew
Home 'gym': We don't have a home gym. Rather, we have a room that includes some tools necessary to exercise, including light weights, stretch bands, balance boards, etc. My pride and joy, however, is my NordicTrack bike, and it would bring me more joy if you were to buy one. (No, I don't own stock in the company.) I'm not a walker, and I'm not a treadmill person, but I enjoy riding a bike on the road. I ride during warm months very early in the morning, with my lights flashing to ward off approaching cars. But when I can't ride outside, the NordicTrack bike is my go-to option. Similar to a Peloton bike, you can view a 'trainer' on your monitor who's biking in a national park, on a country road, or through the downtown of a major city. As you ride, the program controls the resistance (e.g., how hard it is to peddle). But the difference between NordicTrack and Peloton is my bike also elevates. If I'm following a trainer who's going up a hill, I go uphill with her. It's great! I bought this bike during the darkest days of COVID, and owning it has changed my attitude about exercise. While everyone was trapped indoors, I got to 'visit' many locations around the world, getting fitter with each journey.
Personal Trainer: I've used personal trainers for many years, though almost always on a somewhat random basis. If he/she could come to my house, fine; if not, another time. In his/her own way, each helped me, but there was never an ongoing fitness program. Prior to COVID, Pearl finally convinced me to join a gym, which I had never done in my life. Part of the motivation to join a gym was to get a new trainer, as I had been trainer-less for a while. Fortunately, the trainer was agreeable to Zoom training sessions when COVID hit, which kept Pearl and me going. On top of that, as I only see him once per week, he gave me a program to follow on the days I don't see him. I became a man with a plan!
Physical therapy: Due to numerous orthopedic surgeries and injuries, I've been to physical therapy many times over the years. I'm a big fan, in direct contrast to all the people who have told me how they went to physical therapy and it hurt, so they never went back. My latest round started with a visit to an orthopedist last April who recommended physical therapy for some neck and shoulder issues. I started, and I'm never leaving. (Why would I leave? The pain stopped!) Even when insurance ends, I'm willing to pay out-of-pocket to retain a professional who can not only help me to heal, but can keep me from getting hurt. By example, I coordinate what my trainer tells me with my physical therapist to ensure I'm doing the exercises correctly. When my physical therapist is done with my neck and shoulder, we're moving on to other joints. I meant what I said; I'm not leaving.
Pilates: My physical therapist suggested I start Pilates, thinking it could be a valuable tool in my growing fitness arsenal. I never knew about Pilates, but I learned it's a program that increases muscle strength and tone. My Pilates instructor engages me in relatively simple exercises. The first time I went, I thought it was the easiest thing I ever did. The next morning, however, I felt the soreness, since I used muscles that hadn't been used in forever. (By the way, I've learned there's a difference between pain and soreness. And I've also learned that the expression "No pain, no gain" is dead and gone. Should you ever meet a professional who utters those words, head for the door!) As an aside, if you ever try Pilates, you'll be amused when you see a piece of equipment that looks like a hospital bed with a dozen cables and springs attached to it. Upon first sight, you're likely to say: What??
There's a cost to everything I've described, so I must note that you don't have to spend any money to stay in shape. You can walk, swim, bicycle, or take classes online. In my case, I need someone to make sure my posture is correct and that I'm doing the exercises correctly. When I exercise solely on my own, I count repetitions too fast, never stand properly, and tend to emphasize only those activities I like to do the best. I'm not disciplined; thus the need for me to get help.
Of course, there is an alternative to exercise; being sedentary. There's no pain when you do nothing – until it gets difficult to get up out of a chair. Or to get up off the floor after a fall. Or to walk up or down stairs. Or to pick up a grandchild. In other words, being sedentary is fine, until it's not.
Consider this Stan's World as your Fram oil filter moment. (Those of a certain age may remember the Fram oil filter commercials of the '70s and '80s, with their recurring tag line: "You can pay me now or pay me later.") The Fram oil filter commercial implied that if you don't change the oil filter in your car regularly, you'll pay a lot more later when you need a new engine. In this instance, you can spend the time now to prepare your body for the future or potentially pay a hefty price by doing nothing.
I would be happy to have a conversation with anyone thinking about starting or enhancing a fitness program. (Full and complete disclosure: this is not, and will never be, a prelude to me announcing my new career as a fitness instructor.) Yes, following my lead may cost a few shekels each week, and it's definitely a long-term commitment. This is about me trying to stay upright for as long as I can. (More disclosure: I haven't lost a single pound, even with the almost daily use of my beloved NordicTrack bike. Regretfully, this has not been a weight loss program for me.) 
If you're in or approaching retirement, worked hard, and been fortunate to save a nest egg, wouldn't it be nice to have enough energy to truly enjoy the money?
Please remember that past performance may not be indicative of future results.  Different types of investments involve varying degrees of risk, and there can be no assurance that the future performance of any specific investment, investment strategy, or product (including the investments and/or investment strategies recommended or undertaken by S.F. Ehrlich Associates, Inc. ("SFEA"), or any non-investment related content, made reference to directly or indirectly in this newsletter will be profitable, equal any corresponding indicated historical performance level(s), be suitable for your portfolio or individual situation, or prove successful.  Due to various factors, including changing market conditions and/or applicable laws, the content may no longer be reflective of current opinions or positions. Moreover, you should not assume that any discussion or information contained in this newsletter serves as the receipt of, or as a substitute for, personalized investment advice from SFEA.  To the extent that a reader has any questions regarding the applicability of any specific issue discussed above to his/her individual situation, he/she is encouraged to consult with the professional advisor of his/her choosing.  SFEA is neither a law firm nor a certified public accounting firm and no portion of the newsletter content should be construed as legal or accounting advice.  A copy of SFEA's current written disclosure Brochure discussing our advisory services and fees is available upon request. If you are a SFEA client, please remember to contact SFEA, in writing, if there are any changes in your personal/financial situation or investment objectives for the purpose of reviewing, evaluating, or revising our previous recommendations and/or services.