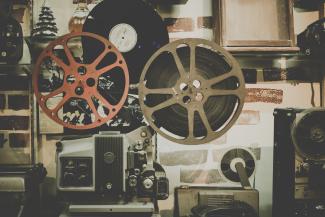 Stan's World - Lights, Camera, Action!
September 30, 2021
For a very unusual reason, it was especially difficult to write this edition of Stan's World. It wasn't because anything was wrong; it was because I was continually distracted by the commotion under my office window. Frankly, the police were no help at all in quelling the disturbance.
They were making a movie!
The producers and directors of the movie BROS selected Alden Street in Cranford to shoot an LGBTQ pride parade that included 300 extras, multiple parade floats, classic cars, not to mention the dozens and dozens of crew. In addition, there were tractor-trailers that took up the better part of the town's main parking lot for support services. To quote my 3-year-old grandson, "It was awesome!"
I would turn on the office lights at 6:30 each morning and look down at a growing sea of humanity. The costumes were elaborate, the music was loud, and the mood was festive. Of all the front row seats one could ever have, I had the best one! (The photo below will give you a small sense of what I got to watch.)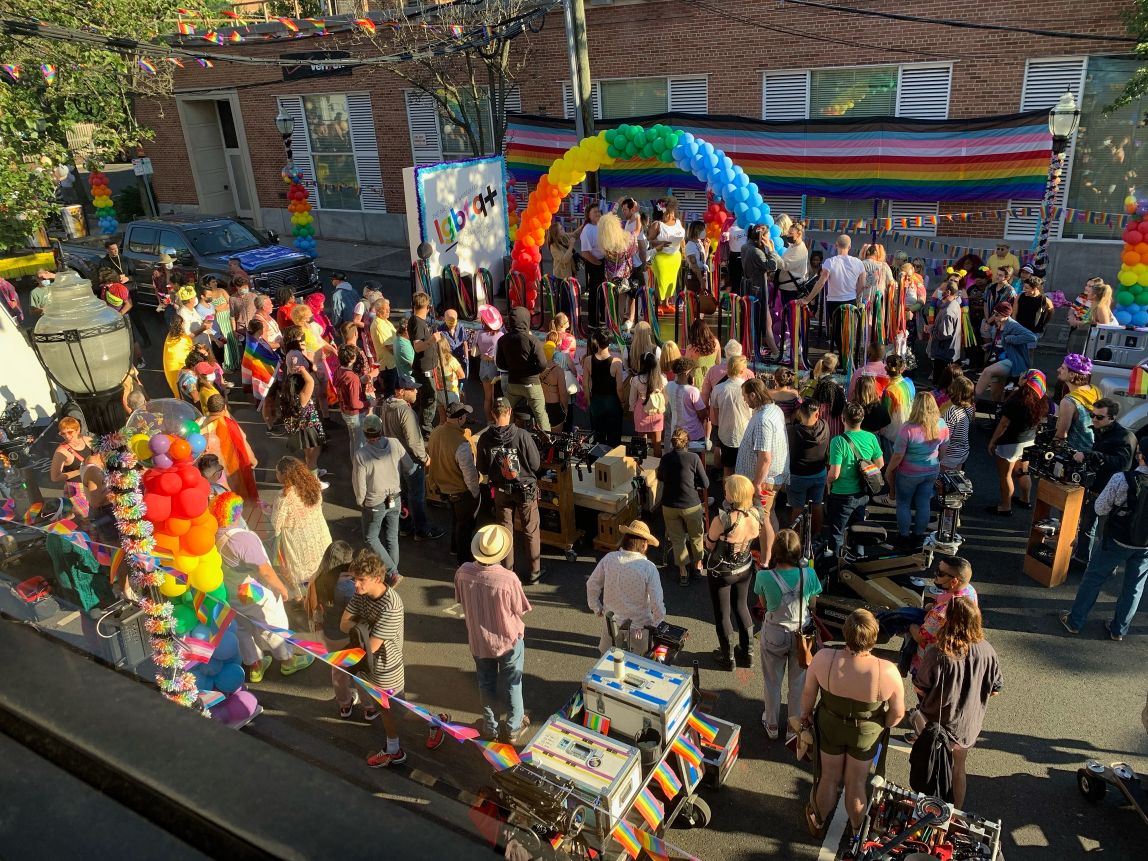 I've been on sets before thanks to my daughter, Katie, and her position as a wardrobe stylist in Hollywood. Those sets, however, were 'merely' for TV shows; less dramatic, less noise, fewer people. (Nonetheless, those visits are still exciting to me. To Katie, when we go on set, it's akin to "Take your dad to work day.")
This was a parade that kept repeating, over and over, because directors want to get the perfect shot. What an incredible show!
Having watched Katie on set, I naturally spent time watching the crew work. While they were getting set up for the first day's shooting, I stepped out front of the building and happened to engage a few electricians in conversation. I was curious to hear about their jobs. The financial planner in me came out when the conversation turned to what happened to them during the COVID lockdown.
As I suspected, the electricians said COVID shut everyone down because the movie and TV businesses went on hiatus. While I can only assume they were all able to collect enhanced unemployment benefits, I'm also aware those benefits are somewhat less than a union electrician earns while working on a job with substantial overtime due to the 14-hour workdays they had in Cranford. As I walked backed to my office, our conversation led me to think about the people I've met at the food pantry where Pearl and I volunteer.
As I've discussed on numerous occasions, we've volunteered in food pantries and soup kitchens for many years, and I have concluded that the people who use our services are people who genuinely need help. They're not coming for a free meal or a bag of groceries because they're trying to 'game' the system. They show up because they're making very difficult decisions on how to spend the few dollars they manage to collect.
Admittedly, there have been a few occasions when even I wondered if one of the guests really needed our services. I clearly recall when I observed one food pantry client walk down the street and climb into a Lexus. I was appalled, but my voice of reason (e.g., Pearl) added some perspective to what I witnessed. "Perhaps he was picking up food for a neighbor." "Perhaps he just lost his job." "You can't pass judgment; you don't know his story."
After speaking to the electricians and while watching the crew set up, I thought back to that conversation. When people are unemployed, they use a lot of their benefits to pay for car insurance and gas so they can go to a job when they find one. Maybe the person I saw getting into a Lexus was on the crew of a show that had been canceled or worked for a company that was no longer in business. Or maybe he had to quit his job to support a sick spouse. Regardless, if that individual only had enough money to pay for a car, a cell phone, rent, and some medical bills, then food had to come from a different source. I thought I understood it before; I understand it better now. 
Speaking of volunteering, I encourage friends and clients to volunteer if they're able to do so. While those who have the means can help with monetary donations, volunteering itself can be a labor of love. It can be very satisfying to know you made a difference, albeit small, in the lives of a few people on any given day. My role as a volunteer at a food pantry is easily defined: assemble bags of food and hand them to clients in a pleasant and respectful manner. And do it without passing judgment.
As a family, to include our grandchildren, we donate breakfast bags for children whose parents then pick them up at a soup kitchen. We all draw and color pictures and faces on the brown bags to hopefully elicit a smile on a young face, and then we fill the bags with the food items we purchased per agency guidelines.
In addition to food pantries and soup kitchens, food insecurity is addressed with community gardens and food deliveries to people who can't get out. And those tasks just scratch the surface.
It's not always easy to find your best fit as a volunteer, but if you'd like to try it, I'll spend the time trying to help you connect with an agency. I can't predict whether or not you'll be satisfied from the first experience you have, but I can report how good I feel when I'm done with a shift or even dropping off breakfast bags. Frankly, it's even more satisfying than watching a staged parade.
Please remember that past performance may not be indicative of future results.  Different types of investments involve varying degrees of risk, and there can be no assurance that the future performance of any specific investment, investment strategy, or product (including the investments and/or investment strategies recommended or undertaken by S.F. Ehrlich Associates, Inc. ("SFEA"), or any non-investment related content, made reference to directly or indirectly in this newsletter will be profitable, equal any corresponding indicated historical performance level(s), be suitable for your portfolio or individual situation, or prove successful.  Due to various factors, including changing market conditions and/or applicable laws, the content may no longer be reflective of current opinions or positions. Moreover, you should not assume that any discussion or information contained in this newsletter serves as the receipt of, or as a substitute for, personalized investment advice from SFEA.  To the extent that a reader has any questions regarding the applicability of any specific issue discussed above to his/her individual situation, he/she is encouraged to consult with the professional advisor of his/her choosing.  SFEA is neither a law firm nor a certified public accounting firm and no portion of the newsletter content should be construed as legal or accounting advice.  A copy of SFEA's current written disclosure Brochure discussing our advisory services and fees is available upon request. If you are a SFEA client, please remember to contact SFEA, in writing, if there are any changes in your personal/financial situation or investment objectives for the purpose of reviewing, evaluating, or revising our previous recommendations and/or services.