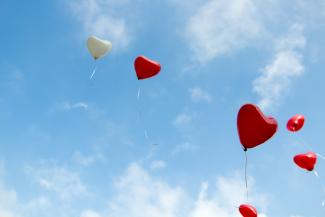 Stan's World - Helping Each Other in This New Normal
March 31, 2020
Whose life hasn't been dramatically altered over the past month? We've seen entire industries decimated. Careers upended. Lives lost. Common daily occurrences transformed. Normal, everyday behaviors are now deemed risky. The term social distancing has been added to the lexicon. How easy it is to go on and on.   
I'm awestruck by the fact that here in America, it can be challenging to find a loaf of bread, a roll of toilet paper, or fresh fruit. When we want to schedule a delivery from our local ShopRite, I set the alarm for midnight so I can try to get a time slot. (Word has it, though not confirmed, that slots for the next available day are posted at midnight.) Usually, it's like trying to buy tickets to a Springsteen concert: click, click, refresh, nothing. I go back to bed and try again the next night.

I've loaded online shopping carts from Whole Foods and have even gotten delivery slots. Then I watch the formerly filled cart whittle down to 8 items because that's all the items they have in stock to deliver. We still take it. Though we have food, one never knows when you can get the next delivery.

The medical authorities said isolate, and we've taken it seriously. The only place we go is a 2-mile drive to visit Rebecca and John and their children because the only place they go is to our house. We're lucky in that we still see them and three of our grandchildren. So many others have very limited social interaction or live far more confined lifestyles in apartments. 

Despite my incredulity about all that is going on around us, I'm actually very optimistic about the future. I also readily acknowledge I don't know how many months until we normalize the present. I'm even realistic that some of the old normal may change, or that it will take me time to normalize. Until we get a vaccine to prevent COVID-19, the so-called new normal may continue to evolve. 

Admittedly, it's easy to get weighed down by the negatives; they can take down even the most optimistic among us. The challenge we face is that we have to overcome the negatives and take actions that will keep us going. 


It turns out, there are a lot of things we can do to make ourselves feel better.  
Stay sane! First and foremost, you have to take care of yourself. There's bad news everywhere you turn, filled with doom and gloom. Stick to the facts. Be selective in what you watch. (You can even try not watching the news some days, or just watch a few minutes and then turn on an old comedy. Or the British baking shows. Or one of the seemingly two million home improvement shows.) Continue doing the things we're supposed to do: exercise, eat right, and turn to friends who are uplifting. Conversely, limit interactions with people who tell you the end is near. (Tell them the end is near for their relationship with you!)
Food pantries and soup kitchens need money. Truly devoted staff members and incredibly dedicated volunteers leave the safety of their homes each day to provide food to a growing number of needy, and they require more money than ever to buy more product. Your donation can help them to reach their new, higher goals. The food pantry in Elizabeth, where Pearl and I volunteer, used to be open for a few hours a day, a few days each month. Now they're open every day because the demand has gone through the roof.
Call a neighbor or friend who is alone. FaceTime with a relative or friend who you can't visit while social distancing. Sometimes, we FaceTime with our grandchildren while we're all eating. Yes, it can turn downright wacky, but it's a fun way to spend some time. 
Find a way to thank those who can't isolate. One day, Pearl and I called the local diner in town and had them prepare lunch for the Westfield Police Department. It was a way to say "Thank You" to first responders and to try to support a restaurant that's struggling to stay in business. Similarly, we sent dinner and salads to the Westfield Fire Department one evening. Depending upon where you live, you can make similar gestures to thank those around who are still serving, whether they be first responders, the department of public works, or the ER in the local hospital. We're sitting in our house because we're not supposed to be out while they all leave the safety of their homes to do their jobs and keep us safe. Maybe a dinner, sandwich, or a box of donuts is a small gesture, but at least the people on the front line are reminded that we're appreciative of the risks they're taking. 
Cheer up those who are most vulnerable and alone. One non-profit where we volunteer has started a program to call seniors who are home alone. Maybe a non-profit or religious organization near you is doing that? In fact, you can sign up to call seniors who live anywhere, so if you want to get engaged by helping someone who is alone and scared, you can probably sign up faster than you realize. 
Check on your neighbors. Do you know anyone who is alone? Do they have enough food? Companionship? Give them a call to check in and see how they're doing.
Refer a struggling coworker, relative, or friend. If you know anyone who is struggling financially, please give them our contact information. These are perilous financial times for many, so perhaps we can help a few with some free advice. 
Be grateful. As my wife, Pearl, says, be grateful that your family is well, and be grateful that we're another day closer to the end of the pandemic.  She's right.
And what about the stock market? 
Concerning for sure, but not life-changing. If you're retired, and you receive a transfer each month from your Schwab account into your checking account, those transfers will continue. (They continued all throughout the 2008-2009 global financial crisis.) The funds that will be used in the future are the mutual funds that have been the most volatile, not the short-term funds used to pay monthly bills. 

As John and I always point out, if you're younger and your investment dollars are invested for the very long-term, this is just another stop along a long investment journey. If you're employed and making contributions into your 401(k) plan every time you receive a paycheck, every contribution from each paycheck is buying more shares in mutual funds than it did a month ago. Over the long term, more shares is what will lead to financial well-being. 

It's common for bear markets to re-test their lows, so don't be surprised if the market sells off again. And then again. Many bear markets stage impressive rallies, only to fall back. Then, one day, they stop falling back, start going up and stay there. It might happen next week, next month, or next year, but it will happen. And when it does, you want to be along for the ride. 

Above all, be safe.
When the health authorities say, "Stay indoors," especially if you're over 60, there's a reason for the warning. And when you have to come into contact with people, or surfaces, use precautionary measures. Wash your hands like your life depends on it - because it does. 

When Pearl and I get food deliveries, we follow a process recommended by virologists. First, we empty the bags into our so-called COVID bin (which is just a large, square, plastic bin) while I'm wearing my COVID gloves (which are work gloves that are easy for me to slip on and off with minimal or no handling). Then we take Clorox bleach wipes, and thoroughly wipe down the six surfaces of every item in the COVID bin. Once clean, they get placed into a clean bin for removal to the kitchen. When we're all done, we thoroughly wash our hands.  

You should all follow similar precautions. If you must go out, keep a container of wipes in the car to use every time you get back in and use it on your hands, door handles (inside and outside), steering wheel, shift lever, and radio button. (It sounds like I'm becoming a virologist.)  And don't forget to frequently wipe down your iPhone.

If you want to talk or write, call or send over an email. John shows up at my house every morning, and we work here all day. Part of our job is looking out for the well-being of our clients. While typically financial in nature, we're glad to engage in matters of all sorts. (On the lighter side, talking or emailing with you will keep us out of the kitchen. Working from home is wreaking havoc on our finely tuned Adonis-like physiques. I expect hinges to start falling off cabinet doors from our near-constant snacking.)

Stan's World is typically followed by articles culled from other sources: perhaps a few comments about a tax issue, the top 10 cities for retirees, how to buy a car. This month, it just doesn't feel right to include anything else because the vast majority of us are not yet focused on planning trips or buying cars.

Rather, we end with a picture of a homemade sign hanging on a front door, one family's way to give a little cheer to everyone who goes by on their daily walks. In case you're wondering, it was colored by our grandchildren, and we see it every time we pull into their driveway.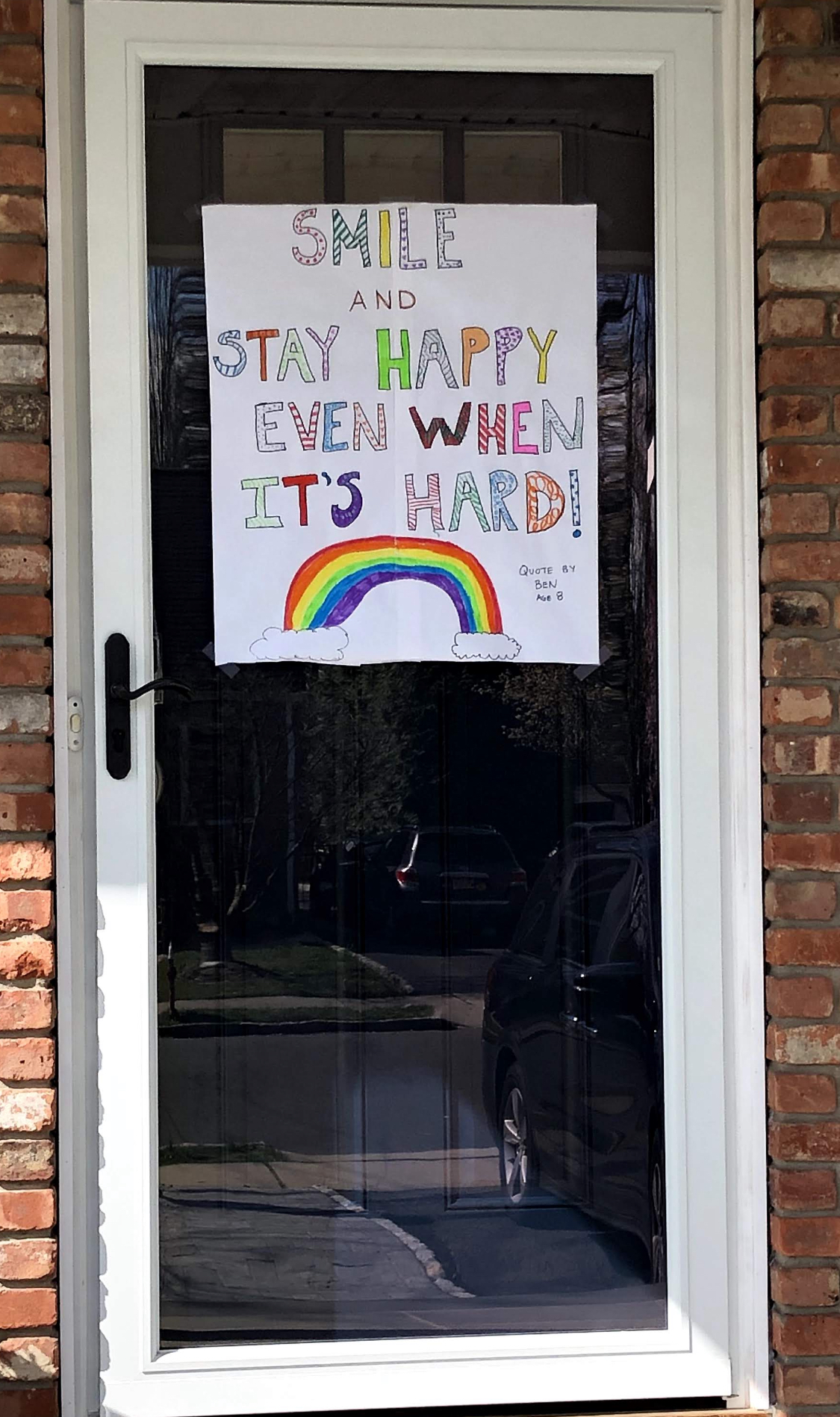 Please remember that past performance may not be indicative of future results.  Different types of investments involve varying degrees of risk, and there can be no assurance that the future performance of any specific investment, investment strategy, or product (including the investments and/or investment strategies recommended or undertaken by S.F. Ehrlich Associates, Inc. ("SFEA"), or any non-investment related content, made reference to directly or indirectly in this newsletter will be profitable, equal any corresponding indicated historical performance level(s), be suitable for your portfolio or individual situation, or prove successful.  Due to various factors, including changing market conditions and/or applicable laws, the content may no longer be reflective of current opinions or positions. Moreover, you should not assume that any discussion or information contained in this newsletter serves as the receipt of, or as a substitute for, personalized investment advice from SFEA.  To the extent that a reader has any questions regarding the applicability of any specific issue discussed above to his/her individual situation, he/she is encouraged to consult with the professional advisor of his/her choosing.  SFEA is neither a law firm nor a certified public accounting firm and no portion of the newsletter content should be construed as legal or accounting advice.  A copy of SFEA's current written disclosure Brochure discussing our advisory services and fees is available upon request. If you are a SFEA client, please remember to contact SFEA, in writing, if there are any changes in your personal/financial situation or investment objectives for the purpose of reviewing, evaluating, or revising our previous recommendations and/or services.