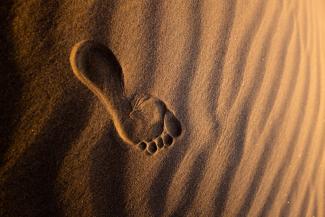 People have memories - markets don't
David Booth is the Chairman and Founder of Dimensional, a mutual fund and ETF company whose investment products we often use in client portfolios. We use Dimensional because our philosophy aligns with that of the company; certain investment criteria and attributes (such as emphasizing value investments and diversifying risk in portfolios) lead to successful outcomes over time1. In fact, because frequent portfolio turnover is not only a negative factor for investors but for fund providers as well, Dimensional screens advisors before permitting them to allow their clients to purchase its funds.
While we often cite the research of Dimensional, both in our newsletters and in client mailings, we don't often provide any articles in their entirety2. In this instance, however, the words of Booth are worth repeating verbatim.
*   *   *   *
"One of the best things about markets is that they don't have memories. They don't remember what happened last week or last year. They don't even remember what happened a minute ago. Prices change based on what's happening right now and what people think will happen in the future.
"People have memories. Markets don't. And that's a good thing.  So as you start 2023, take a lesson from the market. Don't begin this new year bogged down by what happened last year. Give yourself the opportunity to start fresh. 
"Every day in publicly traded financial markets, buyers and sellers negotiate prices for every stock and bond. To agree, they have to find a price that they both think is a good deal. This happens over and over, millions of times a day. Then it starts all over again the next day. Unlike people, markets don't think about the past. It's about today and expectations for the future.
"Markets must be forward-looking to set prices that entice buyers to buy. But prices can't be too low or sellers won't sell. Every piece of available information feeds into the decision-making process so everyone involved can agree on the price for a particular security at a particular moment.
"Markets are smarter and faster than you and me. While you've been reading this, markets have probably factored in thousands of pieces of new information and adjusted the prices of thousands of different company securities.
"That's good news. Markets do the work so you don't have to. You don't need to believe in magic or be able to predict the future to have a good investment experience. Some people might think I'm giving the market too much credit. But over more than 50 years in finance I've come to realize that I'm just being realistic. Someone described it to me as "science-based hope."
"Start the new year off with a clean slate—just like markets do every day.
"Academic research gives us insights into investing. Over the past century, markets have returned on average about 10% a year, although almost never that amount in any given year.1 And the annualized inflation-adjusted return on US stocks is 7.3% going back to 1926.2 Because of big swings year to year, trying to time markets is a losing game. So don't try to outguess markets—go with them. Come up with a plan, take no more risk than you can tolerate, and go spend some time with your loved ones.
"Investing has inherent risks. And no matter what anyone tells you, there are no guarantees. But if you don't have enough cash to live off for the rest of your life, what choice do you have but to invest? Control what you can control so you can set yourself up for success, and then give yourself some grace. Judge yourself by the quality of your decisions and not by their outcomes. There are so many factors outside your control that can impact investment returns.
"I believe one of the worst things investors can do is to impose their memory on their view of markets. Because then they might "see" patterns that aren't there and make choices that aren't based on research or evidence.
"It can feel daunting to develop an investment plan you can stick with and determine the level of risk that's right for you. But few things are more important than how you invest your life savings. That's why most people would probably benefit from a financial advisor to help them talk it all out.
"When it comes to investing, the key is not to try to outsmart the market, but to understand how it works and use that knowledge to your advantage. The market is a great information processing machine. It runs on human ingenuity, which is why returns tend to grow over time as people work to innovate and improve the value of the companies they work for.
"So start the new year off with a clean slate—just like markets do every day."
1 www.Dimensional.com
2 Booth, David. "People Have Memories. Markets Don't." January 13, 2023.  Dimensional. 
Please remember that past performance may not be indicative of future results.  Different types of investments involve varying degrees of risk, and there can be no assurance that the future performance of any specific investment, investment strategy, or product (including the investments and/or investment strategies recommended or undertaken by S.F. Ehrlich Associates, Inc. ("SFEA"), or any non-investment related content, made reference to directly or indirectly in this newsletter will be profitable, equal any corresponding indicated historical performance level(s), be suitable for your portfolio or individual situation, or prove successful.  Due to various factors, including changing market conditions and/or applicable laws, the content may no longer be reflective of current opinions or positions. Moreover, you should not assume that any discussion or information contained in this newsletter serves as the receipt of, or as a substitute for, personalized investment advice from SFEA.  To the extent that a reader has any questions regarding the applicability of any specific issue discussed above to his/her individual situation, he/she is encouraged to consult with the professional advisor of his/her choosing.  SFEA is neither a law firm nor a certified public accounting firm and no portion of the newsletter content should be construed as legal or accounting advice.  A copy of SFEA's current written disclosure Brochure discussing our advisory services and fees is available upon request. If you are a SFEA client, please remember to contact SFEA, in writing, if there are any changes in your personal/financial situation or investment objectives for the purpose of reviewing, evaluating, or revising our previous recommendations and/or services.