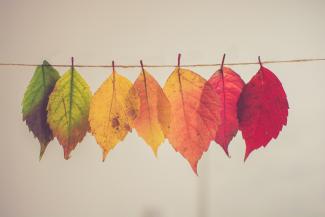 Stan's World - Laughter is the best medicine
August 15, 2020
Raise your hand if you share one of my many idiosyncrasies: I don't like change. (Let me qualify that comment. When Dunkin Donuts added sprinkles to their double chocolate donut, I didn't register a complaint.) Back to the subject at hand: What's wrong when things are OK staying just the way they are?
If you're a baseball fan, perhaps you've heard of Bob Uecker, the voice of the Milwaukee Brewers for the past 50 years. Having appeared in films and television after his unremarkable baseball career (most notably dozens of appearances on the old Johnny Carson show), his great sense of humor could have landed him in the media glare on the east or west coasts. Instead, he chose to stay in Milwaukee because he said being there is OK. And if the Uke says things don't need to be changed because they're OK, then OK is just fine with me. But OK or not, the coronavirus pandemic continues to teach us that we're not always in control, which leads me to an amusing story about our office relocation.   
When the pandemic hit, John and I moved out of our offices in Westfield and into my house, where we worked for almost five months. Realizing that the pandemic will not end soon, and recognizing that working from my home was functional but not always desirable (it's hard to turn off work when you always walk by your work desk), we decided it was time to find office space that is better suited for a pandemic.
With safety in mind, we decided to relocate our offices from Westfield to Cranford. Aside from such upgrades as an elevator for client usage and bathrooms that have fixtures from the 21st century, the new offices are also a little more secluded in the sense that we won't see too many faces while walking into, out of, or through the building. (For the record, my personal commute has now increased from 1.1 miles to 1.9 miles. It's a pandemic, so I'm trying to be stoic about it.)
The day after our move, a 'little' tropical storm hit the east coast, so we sheltered in place (yet again!). When the debris was cleared from my driveway, to include the once pretty ornamental cherry tree that found comfort by lying across my car, we headed back to Cranford to await our phone and Wi-Fi installation. 
While the installation by Verizon was scheduled weeks earlier, I suspected the widespread storm damage might change the schedule. I'll admit to being very excited when I saw a FIOS truck park out front, and then got a tad deflated when I saw the installer walk into the building across the street; the building that coincidentally happens to say "Verizon"  on the signage.
When our 8-10 am time slot came and went, I called Verizon to inquire as to our status. The representative was kind, even when she told me, "I have bad news for you." I braced myself. It was then that I discovered that Verizon rep, Kelly, and I have different definitions of the term "bad news." Her bad news was that the installer would be delayed only until the next day, Friday, August 7. I could handle that kind of bad news.
On Friday, August 7, we dutifully gazed out the window from 8-10 am, scanning the horizon near and far for a FIOS truck. When our new time slot came and went, I again called Verizon. Verizon rep, Matt, put me on hold to check with dispatch, and then Matt told me he had bad news.
I quickly learned that Matt and I have the same definition for the term "bad news," as he said that all installers were working on repairs, and the next open date was in 25 days on September 1. Matt assured me he would check for any cancellations (though we both knew he wouldn't), and John and I tried to figure out how to work without Wi-Fi. We can't, but more on that later.
Surrounded by boxes while waiting for the never-to-appear Verizon installer, John and I decided to get our desks in order. It was then that we noticed that a chunk of John's desk had been damaged during the move and that his desk was also not properly reassembled. Poor guy. I thought about his desk problems as I leaned against my desk and watched the top move up and down under my weight. At least the movers were consistent; neither desk was properly reassembled. Nor were the drawers properly reinstalled. We were phone-less, Wi-Fi-less, quasi-desk-less, shelf-less, and drawer-less, but safe, nonetheless.
People depend on us; we need Wi-Fi. Fortunately, iPhones come with hot spots, so you can link your computer to your phone and set up your own Wi-Fi network. Except, of course, when you want to talk on the phone while using the computer. We were able to speak to clients, or look-up client accounts, but we couldn't do both simultaneously.
That realization resulted in a trip to the Verizon Wireless store to buy a hotspot. The Verizon Wireless sales rep assured me that not only would John and I be able to work on the single hotspot he sold me, but perhaps thousands of others would be able to do the same (provided they had the password to access our network, of course). His statement proved true, until John tried to log on at the same time as me. That's when we learned that what the Verizon Wireless rep really meant to say was the new hot spot would work great for thousands of people if they worked sequentially, one at a time. Naturally, that meant a return trip to buy yet another hotspot. 
While working hard on desks, phones, and Wi-Fi, I hadn't spent a lot of time standing at my desk and actually working at my job. When I had previously asked our landlord why our large windows didn't have shades or blinds, he told me the building faced north and there was no sun glare. That answer is true unless one arrives as early as I do. After nearly burning out my retinas one morning, I solved the problem by taping file folders to the window to block the blinding, early morning sun. Now we were phone-less, Wi-Fi-less, quasi-desk-less, shelf-less, and shade-less. (But still safe!)
I share this long tale because it's the same tale we're all living. Whether it's about getting a dishwasher delivered, logging onto a Zoom call, or moving to a new home, office, or apartment, we're all having our own pandemic adventures. What's imperative is that we should try to keep smiling if we're going to get through this together. As Reader's Digest pointed out so many years ago, laughter really is the best medicine.
Please remember that past performance may not be indicative of future results.  Different types of investments involve varying degrees of risk, and there can be no assurance that the future performance of any specific investment, investment strategy, or product (including the investments and/or investment strategies recommended or undertaken by S.F. Ehrlich Associates, Inc. ("SFEA"), or any non-investment related content, made reference to directly or indirectly in this newsletter will be profitable, equal any corresponding indicated historical performance level(s), be suitable for your portfolio or individual situation, or prove successful.  Due to various factors, including changing market conditions and/or applicable laws, the content may no longer be reflective of current opinions or positions. Moreover, you should not assume that any discussion or information contained in this newsletter serves as the receipt of, or as a substitute for, personalized investment advice from SFEA.  To the extent that a reader has any questions regarding the applicability of any specific issue discussed above to his/her individual situation, he/she is encouraged to consult with the professional advisor of his/her choosing.  SFEA is neither a law firm nor a certified public accounting firm and no portion of the newsletter content should be construed as legal or accounting advice.  A copy of SFEA's current written disclosure Brochure discussing our advisory services and fees is available upon request. If you are a SFEA client, please remember to contact SFEA, in writing, if there are any changes in your personal/financial situation or investment objectives for the purpose of reviewing, evaluating, or revising our previous recommendations and/or services.