You are here

Market Volatility - A Friend, Not a Foe
Market Volatility - A Friend, Not a Foe
Submitted by S. F. Ehrlich Associates, Inc. on March 6th, 2017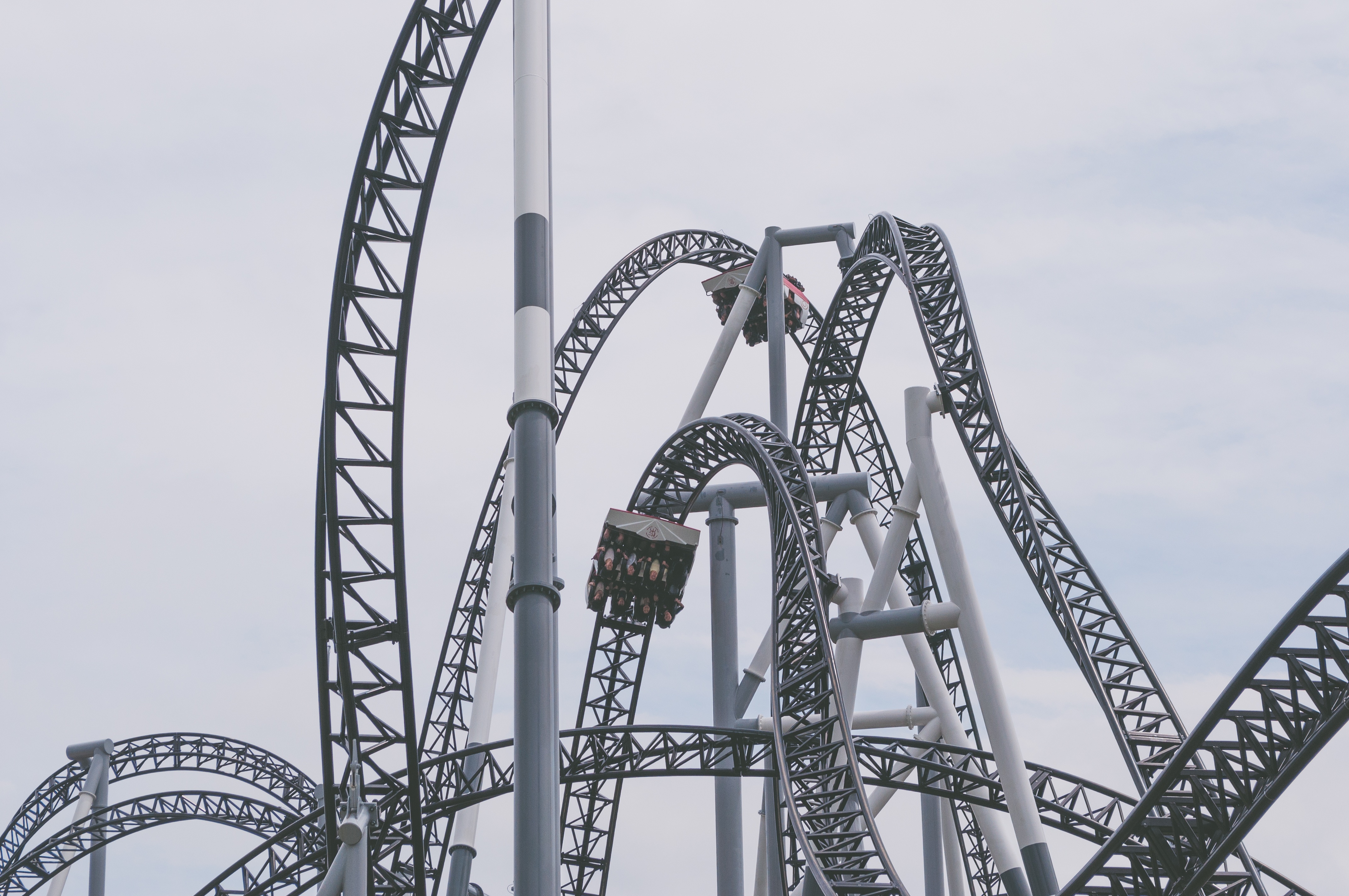 March 6, 2017
All too often, wildly swinging stock markets get a bum rap. They deprive watchful investors of sleep, prompt front-page photos of a panicked New York Stock Exchange trader, and force even the most diligent investors to consider reducing their exposure to equities.
"This time is different, right?"
"What if I just took some of the gains off of the table? I'm tired of riding these ups and downs."
"We've already ridden it down this far - time to stop the bleeding."
As someone who helps people plan for retirement, I hear these comments frequently, especially during times of market turbulence. One should be wary, however, of singling out "the wild ride" of stock market volatility as the primary antagonist. In fact, I'll posit that market volatility is a welcome friend - if not for the wild downs, you wouldn't have the wild ups, and over the long run (as in 80-90 years), we know the market generally trends upwards with bouts of downturns interspersed.
This blog post will focus on some terrific data compiled by J.P. Morgan Asset Management that I regularly use to educate clients on the perils of succumbing to market volatility when making decisions regarding the portfolio.
How bad can it get before it gets better?
In the midst of a market downturn, it's easy to think the downtrend will continue. Even if the market stops the bleeding, how quickly can it recover, especially with the litany of whatever negative news flow got us to where we are. The chart below reflects annual calendar year returns for the S&P 500 (dark gray bars) dating back to 1980. Despite average intra-year declines of 14.2% (each year's max downturn is shown by a red dot) annual returns have been positive in 28 of 37 calendar years.
S&P 500 Intra-Year Declines and Calendar Year Returns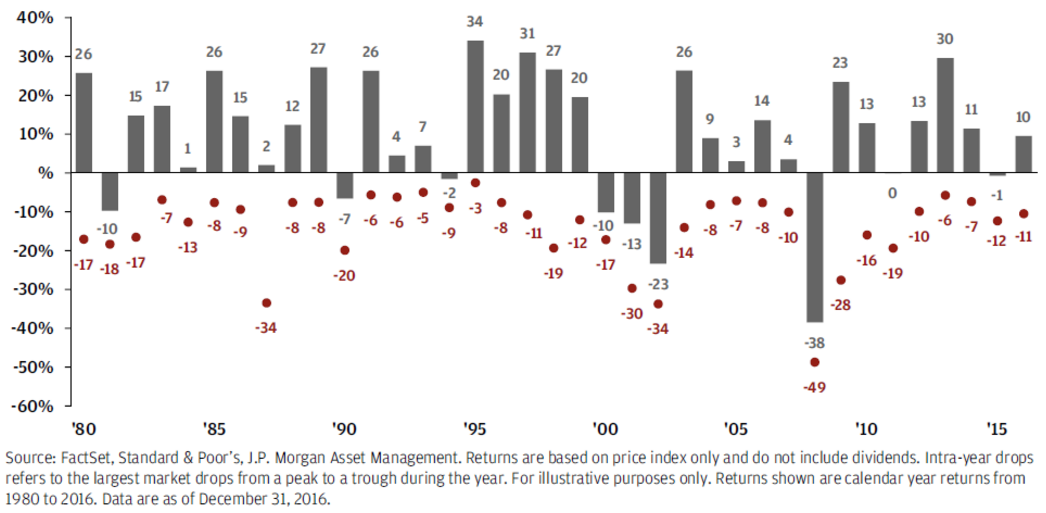 2011 is a great example of market volatility. For the year, the S&P 500 was marginally positive - however, it took a wild ride to get there. An excerpt from a New York Times1 article on December 30, 2011 wraps up the market's performance for the year:
"Oil prices shot up to $114 a barrel before plunging to $76 and rising again to $100 in reaction to revolutions in the Middle East and North Africa...The earthquake and tsunami in Japan exacted a devastating human and economic toll."
It was also the U.S. saw its first-ever credit rating downgrade. From April to September 2011, the S&P 500 fell 19% and at the trough of that decline - which also coincided with early rumblings of a degrading Eurozone - many began to question the future of capital markets in the U.S. Were we witnessing round two of the 2008/09 credit crisis?
As we're well aware, forecasts of financial ruin went unrealized. Optimism that Euro-member countries were willing to work together to restore solvency to the Eurozone along with heavy questioning of S&P's motives behind a U.S. credit downgrade resulted in a rally that helped the year finish with a slightly positive return.
Good things come to those who wait
In the midst of wild market swings, it's easy to question whether or not there's a real payoff to being a long-term investor. Is it truly worth the anxiety?"
The chart below should help you decide in the affirmative.
Annual Total Returns, 1950-2016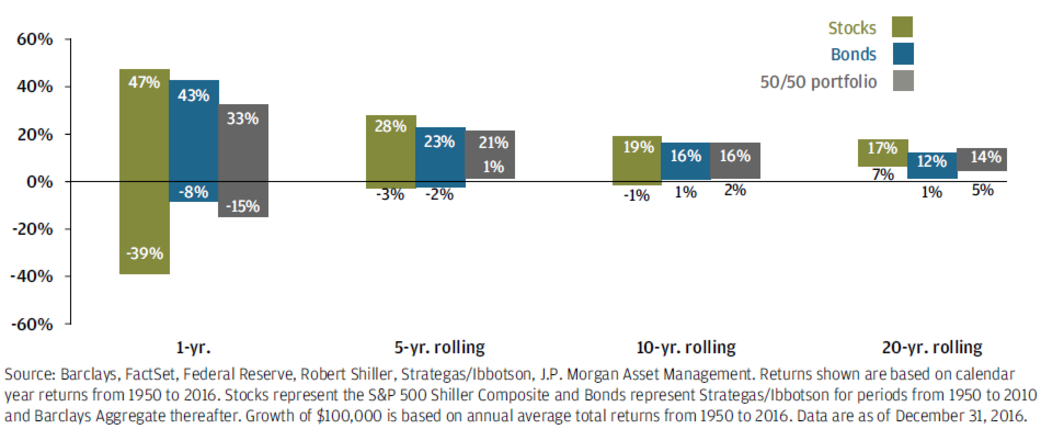 This chart looks at annual total returns over nearly 70 years. It includes stocks, bonds, and a 50/50 blend of each over 1, 5, 10, and 20 year rolling periods. It also shows the range of returns experienced by each asset class over those time periods.
If you're focused on a short period of time, even a portfolio with 50% equities and 50% fixed income can take a wild ride over a one year period (not to mention the volatility of a 100% stock portfolio!). As you broaden the time horizon out to 5, 10 and 20 years, the potential range of returns over the past several decades narrows, further strengthening the argument for sticking to your strategy through thick and thin.
So I need volatility - does that mean I should only own stocks?
Absolutely not. The balance between stocks and bonds in a portfolio should be driven by a number of factors, to include your overall risk tolerance and future financial aspirations. How much do you want to spend in retirement? When do you want to retire? How much are you going to spend on kids' college? Do you want to save for a vacation home? And on and on…
But remember – a key component to any portfolio that's geared towards helping you save for retirement will include a decent allocation to stocks. Long-term investors with the goal of retiring one day should always remember that market volatility is going to be a key driver in helping them achieve that goal.
Bottom line: there will always be a reason to get out of the market. Unless you're a day-trader, you should spend more time focusing on the things you can do over the long-run to ensure a happy retirement (e.g. saving regularly, a properly drafted estate plan, smart tax planning) and less time focusing on the short-term ups and downs of the stock market.
1 Hauser, Christine. "Wall Street Ends Back Where It Started." New York Times, 30 Dec. 2011.
Please remember that past performance may not be indicative of future results. Different types of investments involve varying degrees of risk, and there can be no assurance that the future performance of any specific investment, investment strategy, or product (including the investments and/or investment strategies recommended or undertaken by S.F. Ehrlich Associates, Inc. ("SFEA"), or any non-investment related content, made reference to directly or indirectly in this newsletter will be profitable, equal any corresponding indicated historical performance level(s), be suitable for your portfolio or individual situation, or prove successful. Due to various factors, including changing market conditions and/or applicable laws, the content may no longer be reflective of current opinions or positions. Moreover, you should not assume that any discussion or information contained in this newsletter serves as the receipt of, or as a substitute for, personalized investment advice from SFEA. To the extent that a reader has any questions regarding the applicability of any specific issue discussed above to his/her individual situation, he/she is encouraged to consult with the professional advisor of his/her choosing. SFEA is neither a law firm nor a certified public accounting firm and no portion of the newsletter content should be construed as legal or accounting advice. A copy of SFEA's current written disclosure Brochure discussing our advisory services and fees is available upon request. If you are a SFEA client, please remember to contact SFEA, in writing, if there are any changes in your personal/financial situation or investment objectives for the purpose of reviewing, evaluating, or revising our previous recommendations and/or services.